Welcome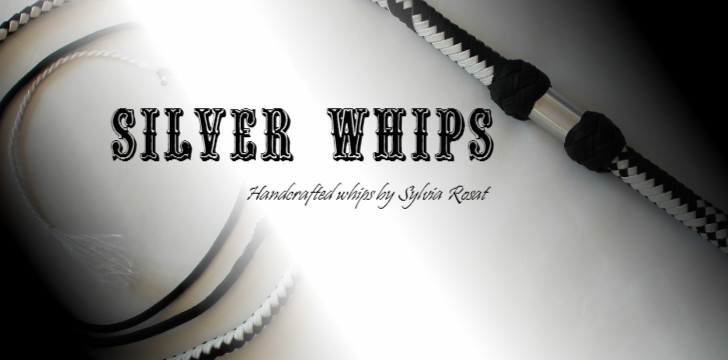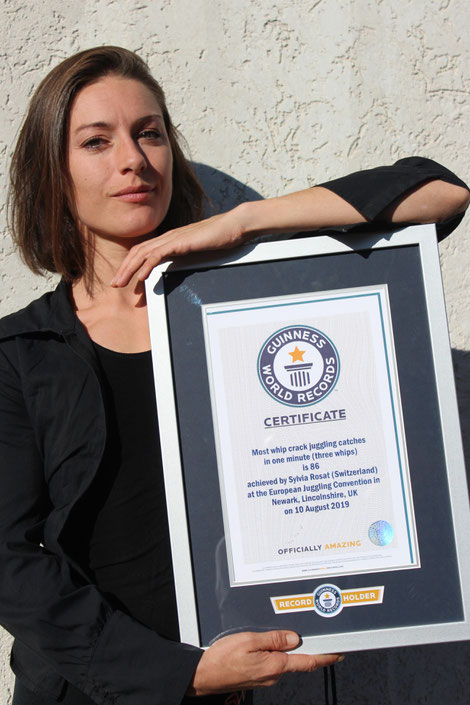 On the 10 august 2019, Sylvia Rosat break the Guinness World record for most whip cracks in one minute while juggling three whips.
The event took place at the EJC European Juggling Convention in Newark, England
The juggling whips used for the record are Silver Whips juggling whips.
Le 10 aout 2019 , Sylvia Rosat bat le Guiness Record Du Monde pour le plus grand nombre de claquements de fouets en 1 minute en jonglant 3 fouets. 
L'évènement a eu lieu lors de la Convention Européenne de Jonglage EJC à Newark en Angleterre.
Les fouets de jonglage utilisés pour le record sont les fouets de jonglage réalisés par Silver Whips.
Update : Aaron Bonk reclaim his record for most whipcracks in a minute in september 2021. The new number is now 96
Mise à jour : Aaron Bonk récupère son record du plus grand nombre de claquements de fouet en une minute en septembre 2021. Le nouveau nombre est désormais de 96
Shows & Workshops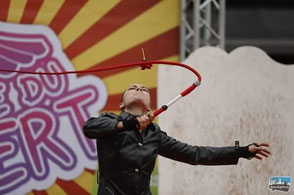 Silver Whips can be booked for shows and workshops. 
Maintenance & Care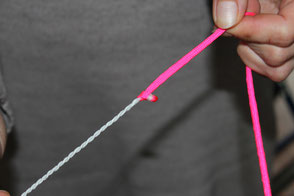 How to take care of your whip-How to change a cracker-How to change a fall-,etc.....
---
Here are some of the professionals and performers who have already chosen Silver Whips:
Annika Hakala
Bobbyscala
Franz Renz Jr
Hannah Elizabeth
Janna Pavlenko
Jonas Witt
Silea
Patrick Gruss Bouglione
La Dame de Feu
Peter Gamble 
Western Stage Props 
Angelo Iodice
Jugglux Juggling Equipment
Kris Madden
Anne Rochat
Yayita Gasser
Guillermo Leon 
Lila Chupa Hoops
and many more …. Get yours now too!
What Silver Whips customers say about it :
"I'm the proud owner of three of Sylvia's Silver Whips and of the forty or so whips in my collection they hold a special place as the finest examples of beautifully crafted nylon whips that really do perform incredibly well , whether it is in the circus shows I put on or the whip cracking workshops I have been fortunate to do all over the world. "
Pete Gamble
International Freestyle Whip Cracking Champion, European Master Whip Trainer and UK National Whip Champion.
"When I made the decision that I wanted to learn whip cracking I wasn't sure whom to buy them from. As I asked around I quickly knew that getting them from Sylvia would be best as everyone I asked spoke highly of her, and also on many pages on the internet I read over and over again how great the quality and service of her whips are.
So I ordered two whips! I had a few questions as I am an absolute beginner and didn't know what I'd need in order to be able to do the tricks I want to do - Sylvia kindly and patiently answered every question I had and told me everything I needed to know to confidently make a decision.  Thank you so, so much!!
Since receiving the whips I've practiced almost every day and absolutely love it! They look beautiful, feel nice to hold and definitely crack very well. :-)
Can't wait to become more advanced to eventually be ready to try different length and style whips, will definitely order Silver Whips again!!"
Yayita G.  , Switzerland
" I'm an owner of two beautiful Silverwhips and I'm really happy about them! The quality is excellent, the service before and after is great and Sylvia is such a sweet person, who I'm glad to have met. If you're concidering to buy a whip, she is the person! "
Annika H. Austria
"Hi, I own three pairs of Silver Whips. Aside from being very beautiful whips, the plaiting on each whip is impeccable and the balance on each whip is perfect. I had an amazing experience with Sylvia throughout the entire process from ordering to the final delivery of the whips. She made the process very comfortable and always took the time to answer and adress all of my questions and concerns no matter what they were. Most importantly, she was forthright, honest, creative and always offered options and suggestions based on my questions and clearly explained all the options. Anyone looking to purchase well balanced, dynamical, beautiful whips at an affordable price and for a great experience from the purchase of the whips , to meeting a really amiable person and eventually cracking wonderful whips, Silver Whips is the place. Thanks for everything Sylvia and I am sure I will be back soon."
Adrian, Connecticut U.S.A
"I'm very satisfied about this whips, I play them indoor and outdoor all over the world and it's perfectly what I need.
With a good balance it's light, smooth, loud and visual!
The whips are precisely made and I highly recommend it.
Thank you very much Sylvia."
Dan Marques
" I had ordered two bullwhips from Silver Whips and I am more than satisfied with them and the provided service: The time between the order and the fabrication was short. The whips look absolutely stunning and they are lovely to handle. They were sent to me providing extra crackers and a little manual. If ever I have a problem I can contact Silver whips for help. I am a very happy customer! "
Sille A. Germany
" This message is for Sylvia Rosat on generously creating my lovely whips.
I adore how she listened to my wants and needs of the preferences that I had with regards to my whips.
She is a fast communicator which made the process exciting and stress free.
I specifically had asked her to create as "feminine a piece as she could:" since I am a lady whip cracker" 
and she delivered!
I love the detailing she added to her whips and I love how it handles.
The length is also perfection!
Be sure to check out her other designs because they are sleek and great for any whip cracker mLe or female.
I like how my whips are kind to my arms so that I don't get tired as often when I practice
Thank you SO much Sylvia for making these dream whips come to life! "
Hannah L , CA
" J'ai commandé un fouet pour ma fille  de 8 ans. Commande prise rapidement et une très belle réalisation. Ma fille est très fière de son fouet et a hâte de s'en servir en publique prochainement. En ce qui concerne l'artiste ayant fait ce fouet,très bon relationnel et très à l'écoute.

Je recommande vivement, je reviendrai pour moi."
Sebastien, France
---
Ils parlent de nous :   They speak about us :
Cliquez sur les liens vers les articles/reportages. 
Click on the links below to see the reportage/journal.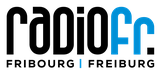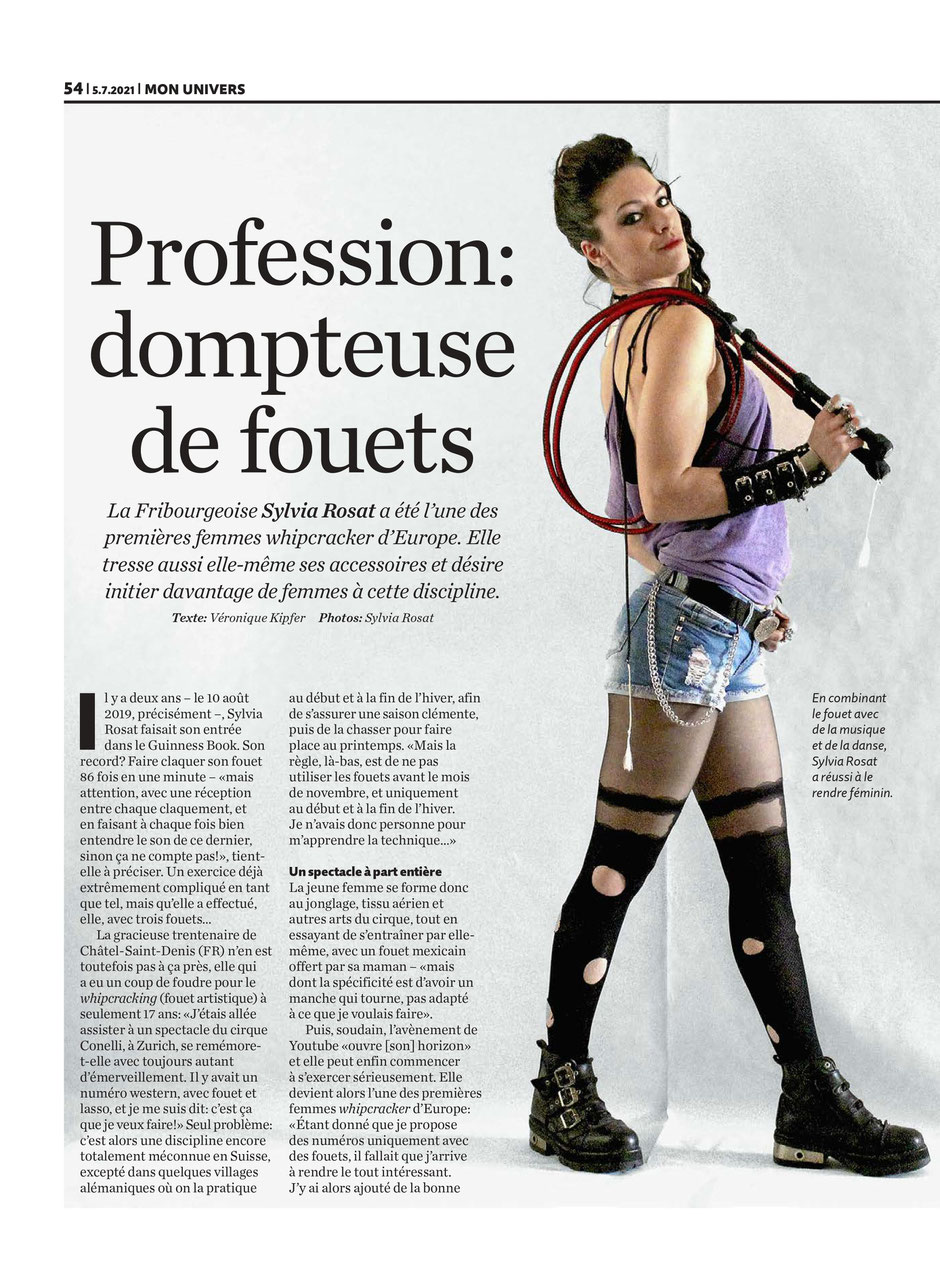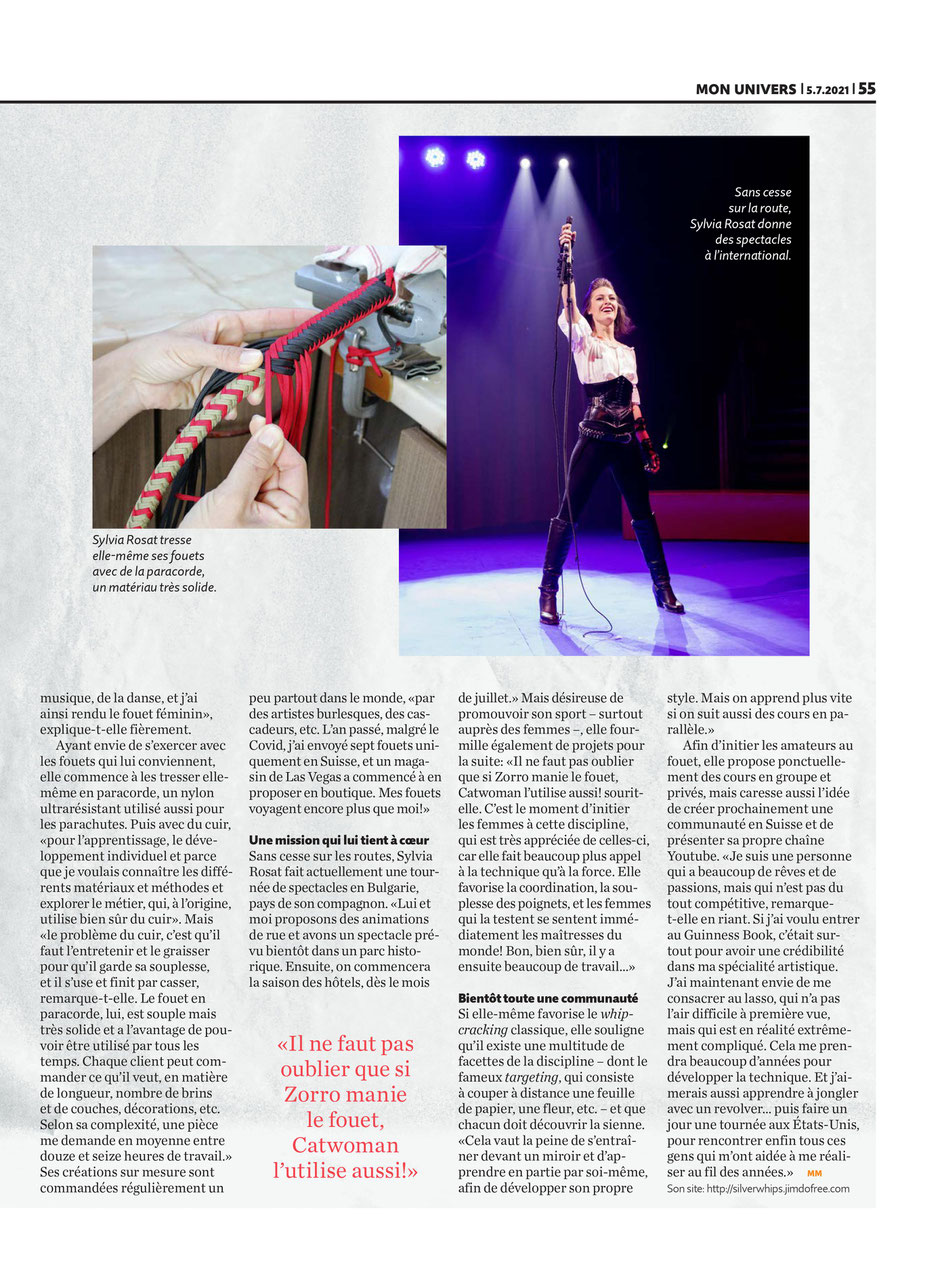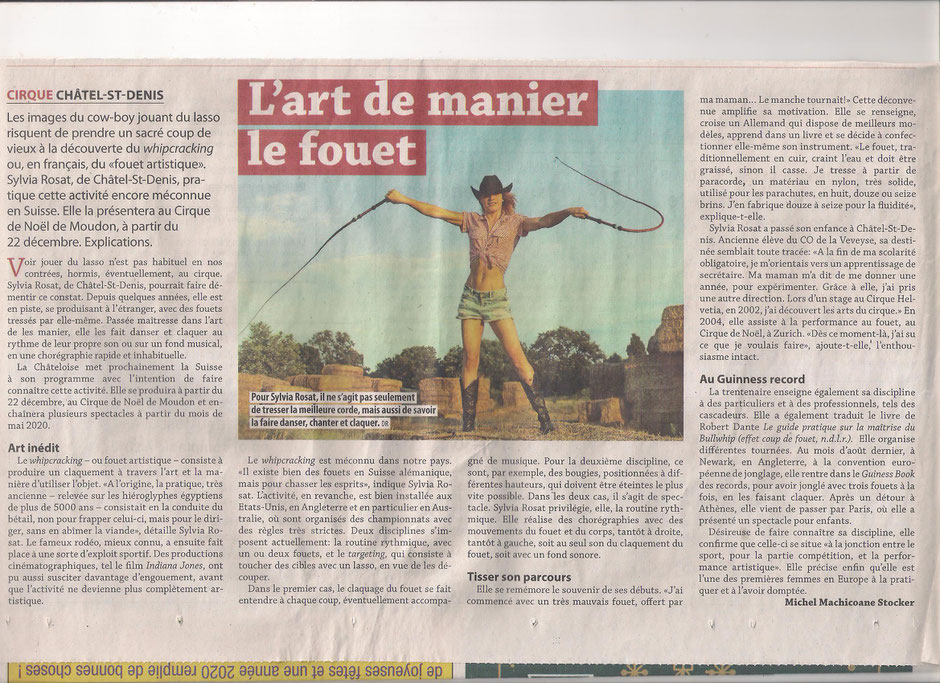 You like our products , you have a question , suggestion , reclamation ? 
Use the form below to leave us a comment or review !
Dont hesitate to contact me for any infos, to leave a comment  or just to say hi 
---
All the pictures of our previous made whips as well as a lot of pictures and videos are on facebook , press the link below and check it out!
---
To be notified about events / workshops , news etc , drop your mail address below to subscribe to our newsletter